Social
Business to Business Connections Through Social Media – B2B Marketing
---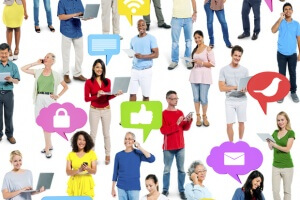 Let's talk about the effectiveness of business to business marketing over social media. I'll categorize the angles I'm taking on this as such: I have clients whom should take advantage of B2B to strengthen their brands and sell more services. I'm assuming you, the reader, are in the same boat – you're trying to convince a client that B2B marketing over social is in their best interest.
I have a lot of fun with social media marketing. Most of my personal activities revolve around directly selling to end consumers over social media. There are, however, instances where a business marketing to another business using social media makes a lot of sense. I'm going to share some statistics I've found that help make the case. In my case, I'm using this information to help various business clients of mine take the transition into marketing their services through social media – and again, I'm assuming you're wanting to do the same.

I was reading an article about this subject at TrackMaven, and I'd like to share their findings and elaborate on them a little. This is a blurb of their findings:
we used the TrackMaven digital analytics platform to analyze 12 months of social media content from 316 leading B2B brands across five key social networks: Facebook, Twitter, LinkedIn, Instagram, and Pinterest. Overall, our analysis included a grand total of 508,060 social media posts and over 100 million social interactions. The 316 brands featured in our analysis include the leading B2B brands in the Global 500 and B2B leaders on social media as identified by the TrackMaven platform across 17 industries.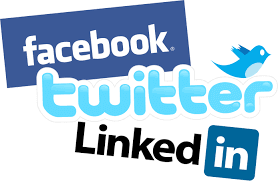 TrackMaven analyzed 316 brands who are B2B, in other words, businesses marketing directly to other businesses. The conventional knowledge you would assume is that B2B over LinkedIn would be a huge success, but B2B connections over Facebook, Twitter, Instagram or Pinterest wouldn't be as successful.
Their findings turned this on its head, however. It turns out that the interactions these B2B marketing campaigns had on all platforms were significant. LinkedIn, of course, was the most significant business tool for B2B marketing. Here are some interesting additional findings, these B2B companies were able to generate these types of interactions on the various social platforms:
109,000 followers on LinkedIn
34,000 page likes on Facebook
18,000 followers on Twitter
3,000 followers on Instagram
and 420 followers on Pinterest
The take-away is that interactions on Facebook, Twitter and Instagram are approximately 50% that of interactions on LinkedIn. What does this mean for you, the SEO specialist and internet marketer, whom has B2B clients in need of additional social media promotions for more business?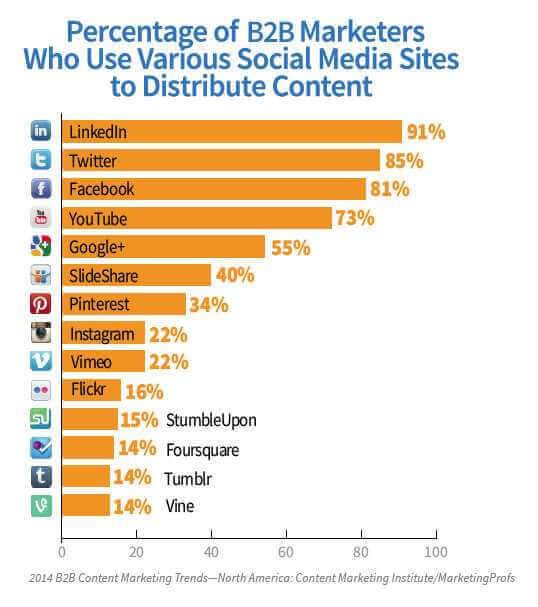 If your client swears by LinkedIn and is getting good business from it, but are not chasing after Facebook, Twitter and Instagram interactions – tell them they're leaving a third of the money sitting on the table. LinkedIn accounts for two thirds of the business interactions they could otherwise be receiving – and adding Facebook, Twitter and Instagram presences could increase their social outreach by 50%.
If you are an employee at a company with a B2B model of marketing and want to make yourself more important – show these stats to your boss and get cred for beginning a Twitter, Facebook and Instagram presence. If you work for a company that manages B2B LinkedIn marketing, consider adding Twitter, Facebook and Instagram to the services you provide.
Lastly, if you manage the marketing for a B2B company, and generate lots of business through interactions on LinkedIn – hopefully you can increase your prospects by 50% through adding Twitter, Facebook and Instagram to your marketing efforts.
Following is a more detailed breakdown of the various B2B types of businesses which saw great success through expanding their social media marketing:
Biotech, engineering and financial services have seen significant growth of their brands. Financial services alone increased over 81% over social media.
Machinery manufacturers have the highest growth, seeing their social media interactions increase over the five different platforms over 129% for the last year.
Biotech brands have the most engagement, with over 12% of followers engaging with their media postings. Compare this to financial services, which are second at just over 9%.

When it comes to engagement with content — over the five different social platforms, they are broken down as follows:
22.53 on Instagram
15.88 on Pinterest
5.99 on Facebook
1.09 on LinkedIn
and 0.86 on Twitter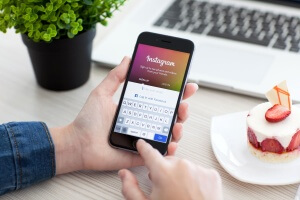 While LinkedIn yields the most followers, Instagram features the most client interactions. Pinterest comes in second. This makes the point that clients are far more likely to interact when your social media posts are centered around graphics.
Another way to look at it, is that while your B2B company may receive 36 times more followers on LinkedIn than Instagram, the clients who do follow you on Instagram are 20 times more likely to engage with your posts.
All things considered, if your B2B company is having excellent success with marketing your services through LinkedIn, it makes sense to expand your social media marketing efforts to include the other large platforms in your marketing efforts, namely Facebook, Twitter, Instagram and Pinterest.