Social
Using Feedly To Entertain Your Social Followers and Increase Interaction
---

Being active on social accounts is a good thing. If you signed up to Facebook, Twitter, LinkedIn, etc. in order to promote your niche site, that's a great first step. Chances are that you're not producing content every few hours. In fact, you may have a new piece of content once a day, or once every other day (or less). This gives you a small amount of information to share. That can be a problem when it comes to growing your social media accounts.
Your goal should be to strike a fine line between being informative and annoying. Only by doing this can you get the interaction you need to massively grow your targeted niche account. It goes without saying that the more quality content you convey, the more your posts will be shared or retweeted. Shared and retweeted posts will increase your followers, as your posts reach an expanded audience through shares/retweets.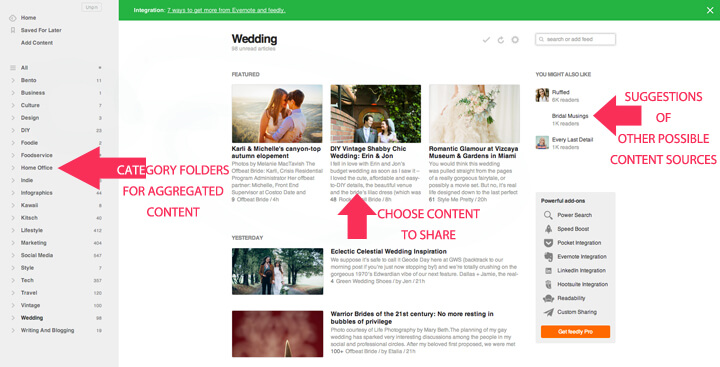 There's one big problem with this. It's a lot of work. Maintaining social accounts can be exhausting, especially when you're trying to build up followings on Facebook, Twitter, LinkedIn, Google+, Pinterest, Instagram, and other Klout-associated platforms, in order to increase your Author Rank and Klout scores. Even if your goal is purely to drive traffic from social media accounts, this is hard work. How can we share a ton of awesome niche-related newsworthy information that will keep a maximum interaction going on with your social media followers? Enter Feedly.
Feedly Helps You Become a Niche Resource
The best thing you could accomplish with your niche-specific and targeted social media followings is to become the go-to source of breaking news and information for your industry. You want a group of people who are tolerant of your frequent postings that are niche-specific. If you have an active following that swallows up and acts upon 8 to 10 shares per day — what more could you ask for?
This won't happen unless you're sharing information that people want to see. How do you keep track of all the latest, greatest information in your niche — so you can tweet or share that information? Feedly is a news reader that helps you organize a large stream of new articles that are posted daily in your niche.
The idea is that you will use Feedly to sign up to every blog in your niche that has excellent information. Then, whenever they post something that is worth sharing, you know about it immediately. As your niche is interested in knowing of articles that are targeted to their interests, they will appreciate your frequent posts.
Making Friendships In Your Niche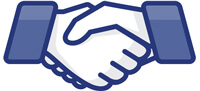 As your following grows, you'll come to realize that your social media postings about other people's content gain more shares and retweets than their own accounts! Chances are that the accounts of sites you follow are only posting or tweeting about the posts they've made themselves, which are most likely few and far between. As such, they're not taking advantage of the increased shares and followings you receive because of your elevated niche-targeted posts and tweets.
Trust me, anyone who participates in social media to promote their site keeps an eye on stats such as shares and tweets. It will become quite noticeable to that content producer that they're getting far more shares from your feeds than their own. When that time happens, it will be a great time to introduce yourself and explain that they are popular with your followers.
You have a cookie they want, a targeted niche-specific following on various social accounts. They have something you want — links to your site. This is a great way to do the most effective link building you'll ever accomplish. By trading social mentions and introductions to your social following in exchange for links from leaders in your niche, your site will soon be ranking awesome in Google.
Slipping Your Own Site Into The Feed
What better way to establish yourself as a leader in a field than to build a social following — fueled by sharing other experts in your field, and then mixing your own articles in? Psychologically, this makes you an expert by association. Simply make sure your own content is on par with, and of the same quality as the other experts you're sharing.
Learn to Use Photoshop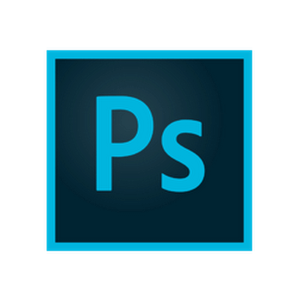 Create graphics for the things you share. Tweets with graphics receive 150% more retweets. That means if your tweet would have received 100 tweets, by making it a graphic that figure increases to 250. The more retweets, the more people who have an opportunity to see your tweet — to retweet it themselves and possibly follow you in the process.
When it comes to Facebook, they have a complex algorithm that determines just how many of your followers will see your post. Facebook starts by sharing your content to a limited number of your following. Depending on interaction, click-through ratio, dwell time and other user metrics, Facebook decides whether to show your post to even more of your followers.
It only makes sense, therefore, to make that Facebook post the best you possibly can. By creating an interesting graphic, as well as a click-baitish title — your Facebook post will have more reach to your own followers, as its user metrics will be improved. This is part of the process you need to engage in for your posts to have a chance at going viral.

Summary of Benefits
By signing up to all the top blogs in your industry through Feedly, you can empower your social media accounts with the best, latest and greatest news that is targeted to your niche. By offering these higher quality types of posts through your social media, you can:
Make friends of the influencers in your niche.
Increase Google traffic by getting links from the best blogs in your niche.
Create a targeted social following larger and faster.
Sign up to Feedly today and start entertaining your social following with the best news and information in your niche.